Buy now and pay interest-free after 30 days with Klarna.
Low Top Sneakers
aerantis man
https://www.geox.com/en-SE/low_top_sneakers-papyrus-white-aerantis_man-U927FA02243C1S1Z.html
Men's sneaker with a design that is innovative in terms of both technology and stylishness.
Item code
U927FA02243C1S1Z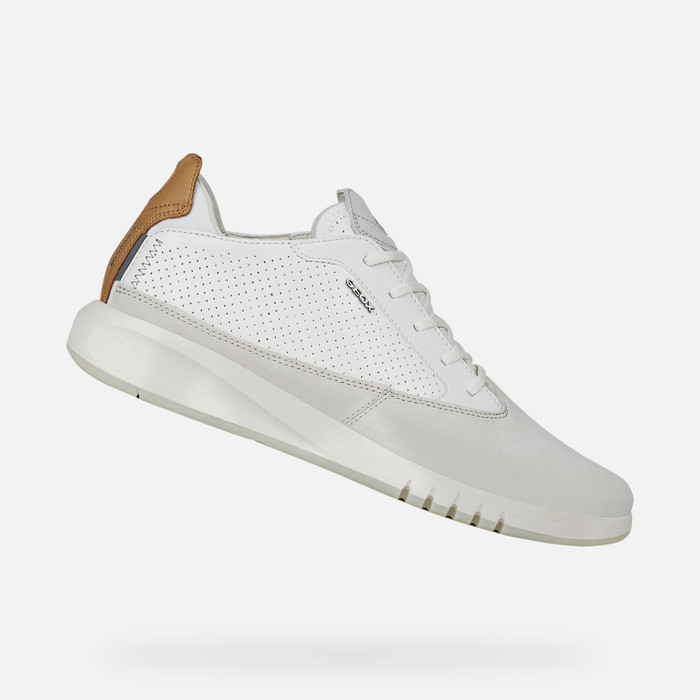 AERANTIS MAN
papyrus/white / size: -
within 14 days of the delivery date
Item code: U927FA02243C1S1Z
Men's sneaker with a design that is innovative in terms of both technology and stylishness. Ultra-breathable and comfortable, the Aerantis™ sneaker is in a league of its own for its iconic stylishness and technological core. This versatile version in white and off-white comes in suede and plain leather.
Aerantis™ is the essence of technology and boasts cutting-edge solutions that allow the shoe to breathe for an amazing sensation of well-being. The groundbreaking Ventilation System works just like a lung which, prompted by movement, increases the internal air circulation and enhances breathability all around the foot. It works in conjunction with the Inner Breathing System, a special interior lining that optimizes breathability and heat dispersion, and the Net Breathing System, that ensures there is an exchange of air from the outside thanks to the sole's broad perforated and breathable surface area.
Exceptional levels of well-being thanks to a combination of the Ventilation System, which boosts air circulation inside the shoe, and the immense breathability delivered by the patented Inner Breathing System and Net Breathing System to an extensive part of the outsole and right around the foot.
An outstanding cushioning effect which offers protection and soaks up jolts and vibrations.
Lightweight footwear for comfortable walking throughout the day.
Highly wearable piece of footwear that delivers superior comfort levels.
The elasticated lacing makes for an adjustable fit.
The removable footbed is hygienic and practical.
Composition
Upper: 77% Leather-10% Textile-13%Synthetic
Lining: 70% Textile-30% Synthetic
Outsole: 60% Synthetic Material-40% Rubber
Insole: 100% Leather