Buy now and pay interest-free after 30 days with Klarna.
waterproof shoes
hynde baby
https://www.geox.com/en-SE/waterproof_shoes-navy-hynde_baby-B842HA00032C4002.html
Boy's waterproof ankle boot offering optimal levels of warmth, well-being and breathability.
Item code
B842HA00032C4002
TrueFit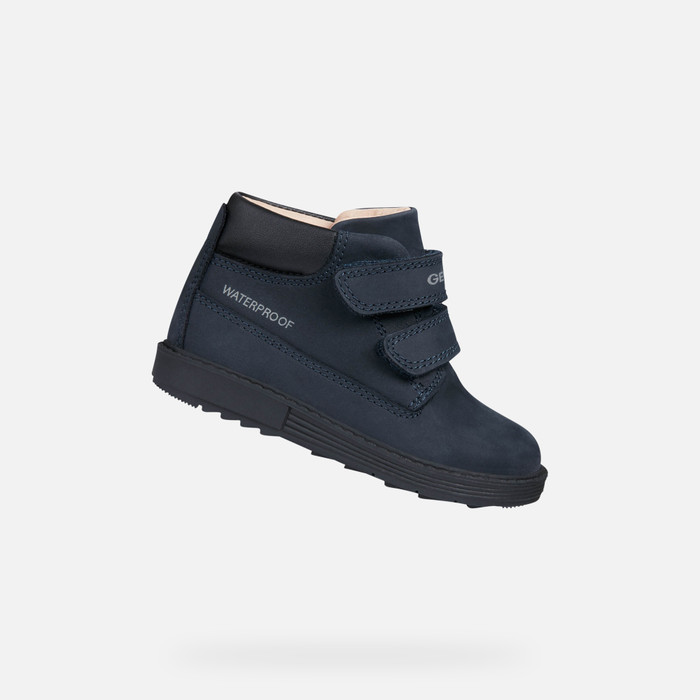 HYNDE BABY
navy / size: -
within 14 days of the delivery date
Item code: B842HA00032C4002
Boy's waterproof ankle boot offering optimal levels of warmth, well-being and breathability. Created with the rainy days of autumn and winter in mind, Hynde WPF is a timelessly-attractive and easy-to-match piece of footwear. It has been crafted from supple nubuck in a versatile navy-blue palette and ensures superior levels of waterproofness, protecting feet from sudden bouts of bad weather and low temperatures.
These shoes feature a thermal lining that can protect against even the harshest temperatures. GEOX technology at the service of comfort and practicality.
There is a perfect shoe for every child. We have them all.
Thanks to Geox's high level of specialisation, GEOX knows how to ensure the correct development and wellbeing for young feet during every phase of growth.
These little shoes have been specially designed to sustain the feet of children from one year and up and to provide the right support for every small step they take.
The classic Geox rubber sole is based on an exclusive patent: the combination of the perforated sole and the resistant breathable and waterproof membrane allow for natural temperature regulation, thereby creating the perfect microclimate inside the shoe that keeps feet dry and comfortable for the whole day.
System devised by Geox for breathability of the outsole.
Holds out against the rain thanks to the waterproof upper and impervious breathable outsole.
Protection against the cold thanks to excellent levels of thermal insulation.
Excellent flexibility guaranteed by the Flexy System integrated into the tread.
Highly wearable piece of footwear that delivers superior comfort levels.
Closes with a single riptape, making for an easy quick entry.
Cosy internal lining in real wool for greater protection against the cold.
The removable footbed is hygienic and practical.
Composition
Upper: 90% Leather-10% Synthetic
Lining: 14% Leather-66% Textile-20% Synthetic
Outsole: 100% Synthetic Material
Insole: 100% Textile