Make a totally secure purchase choosing iDEAL.
waterproof boots
falena abx woman
https://www.geox.com/en-NL/waterproof_boots-black-falena_abx_woman-D26HXB043FUC9999.html
Women's cosy waterproof ankle boot emanating an urban vibe.
Item code
D26HXB043FUC9999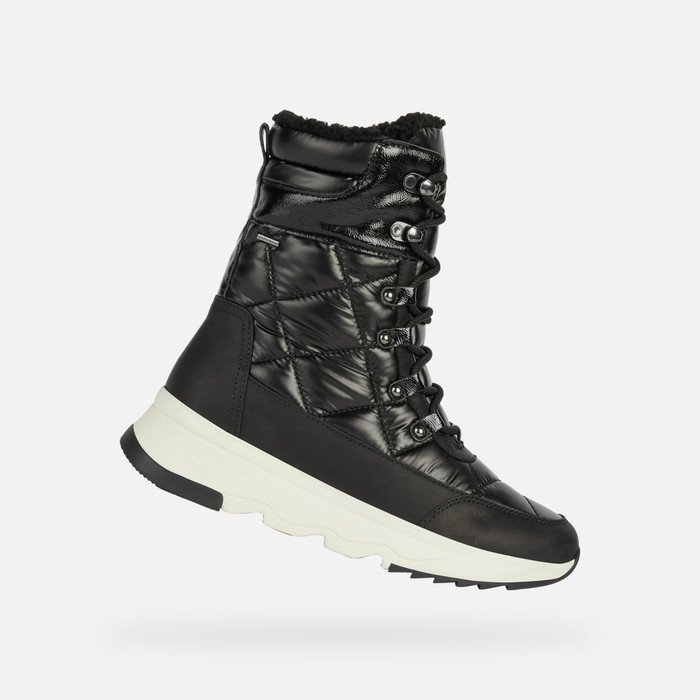 FALENA ABX WOMAN
black / size: -
within 14 days of the delivery date
Item code: D26HXB043FUC9999
Women's cosy waterproof ankle boot emanating an urban vibe. With a hybrid design and a contemporary aesthetic further enhanced by a black palette, this feisty version of Falena ABX in plain leather and quilted nylon is sure to bring the best out of everyday wintertime dressing. Embellished with hiking-style details, this ankle boot is easy to slip on and adjust as well as offering comfort and protection without sacrificing stylishness.
breathability for the outsole and a feeling of well-being for the foot are guaranteed by geox-patented systems.
superlative protection and optimal thermo-regulation in all weather conditions thanks to amphibiox technology which makes for an impervious breathable upper and sole.
protection against the cold thanks to excellent levels of thermal insulation.
an outstanding cushioning effect which offers protection and soaks up jolts and vibrations.
lightweight footwear for comfortable walking throughout the day.
highly wearable piece of footwear that delivers superior comfort levels.
the lacing and zip closure make for an easy foot entry and an adjustable fit.
cosy internal lining for greater protection against the cold.
the removable footbed is hygienic and practical.
Composition
Upper: 67% Textile-33% Leather
Lining: 74% Textile-26% Synthetic
Outsole: 75% Rubber-25% Synthetic Material
Insole: 100% Textile