flexyper abx boy
https://www.geox.com/en-HU/waterproof_boots-navy-yellow-flexyper_abx_boy-J049XD0CL54C0657.html
Boy's waterproof cushioning ankle boot designed for open-air pursuits.
Item code
J049XD0CL54C0657
-
28

29

30

31

32

33

34

35

36

37

38

39

40

41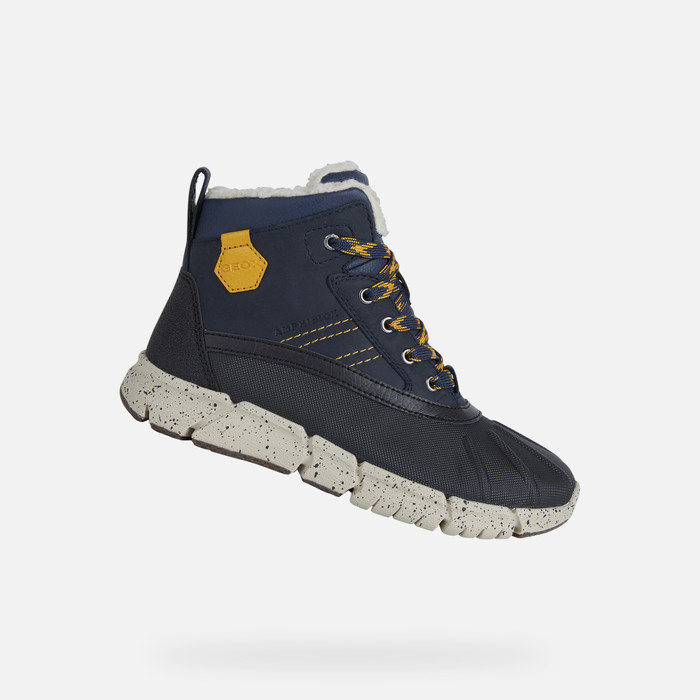 FLEXYPER ABX BOY
navy/yellow / size: -
within 14 days of the delivery date
Item code: J049XD0CL54C0657
Boy's waterproof cushioning ankle boot designed for open-air pursuits. Snug and breathable, the Flexyper ABX ankle boot has exceptional waterproofing which protects feet from the cold and rain. Crafted from waxed leather and a leather-effect material in a navy-blue-and-yellow colourway, it is bound to refresh any wardrobe with its modern edge and will be a perfect complement to everyday outdoor adventures.
Amphibiox features advanced waterproof technology from the world of professional outdoor wear hidden in the form of a fashionable shoe. Be ready for everything the city throws at you, with Amphibiox, the perfect footwear choice for any condition.
Amphibiox is top of the range in terms of Geox's waterproof products. It stands out from other waterproof shoes by employing the use of Geox's pioneering waterproof and breathable sole, pairing it with a series of innovative technologies (including some of Geox's own patents) on the upper, in order to achieve durable water resistance and breathability.
The special Amphibiox membrane protects against rain, mud and snow, leaving your foot completely dry. The high breathability helps with natural internal temperature regulation, removing moisture from the shoe and guaranteeing freshness or warmth depending on the external temperature.
Shoes featuring Amphibiox technology have been designed to provide different levels of water resistance depending on your needs. This model is recommended for outdoor activities, even in heavy rain.
These shoes feature a thermal lining that can protect against even the harshest temperatures. GEOX technology at the service of comfort and practicality.
There is a perfect shoe for every child. We have them all.
Thanks to Geox's high level of specialisation, GEOX knows how to ensure the correct development and wellbeing for young feet during every phase of growth.
Every so often children dream about being adults. That's why we have designed a model for your children that is inspired by mum and dad's shoes yet does not impede safety and comfort.
breathability for the outsole and a feeling of well-being for the foot are guaranteed by geox-patented systems.
superlative protection and optimal thermo-regulation in all weather conditions thanks to amphibiox technology which makes for an impervious breathable upper and sole.
protection against the cold thanks to excellent levels of thermal insulation.
an outstanding cushioning effect which offers protection and soaks up jolts and vibrations.
lightweight footwear for comfortable walking throughout the day.
highly wearable piece of footwear that delivers superior comfort levels.
the lacing and zip closure make for an easy foot entry and an adjustable fit.
cosy internal lining for greater protection against the cold.
the removable footbed is hygienic and practical.
Composition
Upper: 73% Synthetic-27% Leather
Lining: 89,3% Textile-10,7% Synthetic
Outsole: 65% Synthetic Material-35% Rubber
Insole: 100% Textile