omar baby
https://www.geox.com/en-GR/waterproof_shoes-navy-red-omar_baby-B262DA022MEC0735.html
Boy's waterproof ankle boot with a winter-perfect design.
Item code
B262DA022MEC0735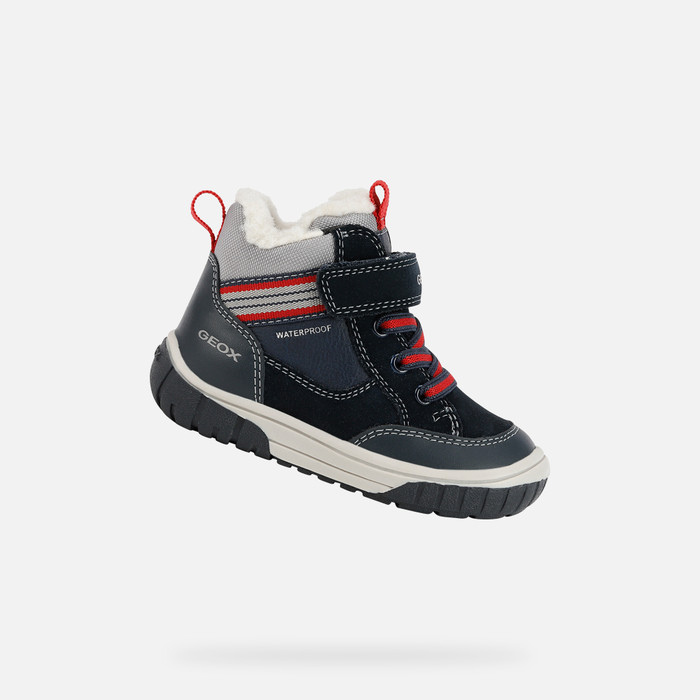 OMAR BABY
navy/red / size: -
within 14 days of the delivery date
Item code: B262DA022MEC0735
Boy's waterproof ankle boot with a winter-perfect design. Crafted from suede and fabric, Omar is a comfortable piece of footwear in a navy-blue-and-red colourway. The hybrid waterproof construction makes it an ideal solution for wet rainy weather, while the protective breathable outsole brings comfort and a sensation of well-being throughout the day.
breathability for the outsole and a feeling of well-being for the foot are guaranteed by geox-patented systems.
holds out against the rain thanks to the waterproof upper and impervious breathable outsole.
protection against the cold thanks to excellent levels of thermal insulation.
excellent flexibility guaranteed by the flexy system integrated into the tread.
highly wearable piece of footwear that delivers superior comfort levels.
toe and heel guards provide protection against jolts and bumps.
the single riptape closure and elasticated lacing make it easy to slip on and adjust.
cosy internal lining in real wool for greater protection against the cold.
the removable footbed is hygienic and practical.
Composition
Upper: 60% Leather-20% Textile-20% Synthetic
Lining: 10% Leather-90% Textile
Outsole: 100% Synthetic Material
Insole: 100% Textile